INFINITE SPACE, INFINITE GOD


Day 2 Monday
"The Harvest", by Lori Z. Scott was a most pleasant introduction to Catholic science fiction for this non-Catholic reader. Without straying from the tenets of Catholicism she managed to engage me in a story that asked the question, "How do we define life, that is human life with a soul?" This was one amazing and complex story of the unfolding of truth, the revealing of evil and the emergence of love.
Our readers are going to want me to say more and I hesitantly add some particulars. I'm hesitant, however, because I hate to ruin a good story. Let's just say that the prevailing theory of what it takes to be considered "human" is challenged and answered in two different ways. It is answered by the rationalists who would like to see God crammed back into some corner where they can control Him, and it is answered in tears of realization that God is Author of all life.
Lori, we've never met, but you did an absolutely superb job in answering a universal question about what it means to be human. This carries with it so many other lessons that it could easily have been the only story in the book and I would have loved it none-the-less. Thank you for helping us to see a universe a bit larger than the one we had believed in beforehand.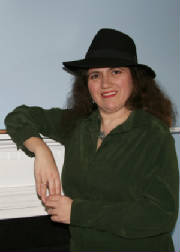 Featured at Twilight Times Books
Don't miss out on checking this site at Fabian Space
And don't forget to visit Infinite Space, Infinite God