INFINITE SPACE, INFINITE GOD


Day 3 Tuesday
Today, with the help of Adrienne Ray, we take a short trip to Mars in her story "Hopkin's Well". There are several things that make for a good sci-fi story. They are, in my opinion, space, time-travel, aliens, spacecrafts and advanced technology. In a sense this includes them all, but that's only if you include the land rover as a spacecraft. The feeling of "being there" in this story is powerful. No writer could ask for a better portrayal.
We are immediately introduced to a couple of characters, Private Oscar Talbot and Sergeant Ellis Bethesda. Understandably Bethesda is Talbot's superior. We learn that Talbot is a "Jumper", which I'll leave you to discover on your own. The good sergeant and private are on a mission to do away with rebels at a place called Hopkin's Well on the red dusty planet. What actually transpires is quite interesting.
Like other stories in INFINITE SPACE, INFINITE GOD, "Hopkin's Well seeks to expose some truths that would rather remain hidden, reveal others that may not even have been considered, and offer a message of redemption to some interesting people. That's about all I can say without ruining a truly remarkable story. Get it, read it, love it. That's all I can say.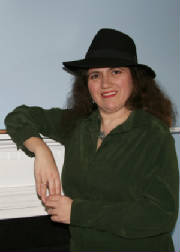 Featured at Twilight Times Books
Don't miss out on checking this site at Fabian Space
And don't forget to visit Infinite Space, Infinite God