Day 6 Friday
Little Madeline, by Simon Morden, is a story, except for a few references of a more modern technology and that she was some kind of mutant life form, could be about any city in the world, small or large. As Jesus told His disciples, "The poor you have with you always." LES MISERABLES, by Victor Hugo talks about beating the odds of both poverty and injustice. Many other works by famous writers deal with this as well. "Little Madeline" is a story about the inner battle a person must fight to break loose of these chains. It does not mean they can shake loose poverty, but it means they can shake loose the bondage that poverty threatens us with.
I enjoyed the story, especially since accepting the truth was in itself another battle that she needed to fight. I only have one criticism and it's that when she goes home after attending the Catholic church she finds her apartment vandalized and the vandal still in the apartment. I would have had her get home to the same dismal place, the same disappointing mother, the same circumstances. Then mention that a few days or weeks later she came home and found her home ransacked. It makes for a more believable story. Other than that, however, I thought it was excellent.
But what is the story really about? Is it about poverty? Maybe. About overcoming obstacles? In part. Is it about that churning bitterness towards another that really on hurts yourself? Yes, that too. "Little Madeline" is one of those rare stories that takes you smack dab into the center of life's problems and then shows you the choices you, or rather that of the heroine in this case, have. We come to the realization that we only have two choices, to remain in bondage to poverty and all its many evils, or to fight against what society says we must bear. We have weapons, but only in the hands of God are they effective. We can chose, therefore, to be victims or victors in Him. Either way, the choice is always ours.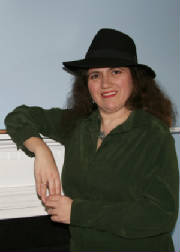 Featured at Twilight Times Books
Don't miss out on checking this site at Fabian Space
And don't forget to visit Infinite Space, Infinite God